Imagine two farmers, each with 1 hectare of planted coffee. Farmer One harvests 4 bags of cherries from her hectare, while Farmer Two harvests only 1 bag from his. Certifications can help increase farmer incomes through incentives such as offering Farmer Two 10 percent more per bag, say, if he responsibly recycles the water on his farm. Given the farmer's predicament, the offer is likely welcomed — but possibly also stressful, since every undertaking requires capital, which Farm Two is less likely to have.
More immediately helpful, and more financially sustainable, is to consider why there's a 300-percent discrepancy and how to change that, so Farmer Two can harvest four bags and earn the incentive. This is exactly where NKG BLOOM fits into the supply chain. It's designed to empower producers to run their farms at their full potential, enabling them to build sure pathways out of poverty while ensuring the long-term availability of green coffee.
Several years ago, Neumann Kaffee Gruppe (NKG) export companies Ibero Uganda and Exportadora de Café California (ECC) began working with producers to examine their coffee businesses and determine how to best address the gaps between their reality and their potential. The successes and learnings of those respective programs helped inspire what's now the global NKG BLOOM initiative.
Por Mas Café, Mexico
In 2014, Por Mas Café grew out of ECC's response to the rust crisis. In Chiapas, 60 percent of farming areas were devasted by rust, and in Veracruz, 70 percent. Farmers without financial safety nets were facing a brand-new adversity, in addition to aging trees and climate-change responses that were upending all long-held seasonal expectations.
ECC's response was holistic. It hired dedicated agronomists, who worked with international coffee consultants and offered technical assistance for every context; it also worked with a local bank to develop a pre-financing credit model with a two-year grace period; it offered high-quality fertilizers and other inputs at prices made especially low by its bulk purchasing; and it created nurseries, where it developed and provided seedlings in varieties shown to be rust- and nematode-resistant, as well as weather adaptable.
Por Mas Café began in 2014 with 868 farmers. By 2019, 4,520 coffee farmers were involved, and during those five years, 5,300 hectares were renovated, $11.2 million U.S. in long-term financing was extended and 36.5 million plants were grown and dispersed from the ECC nursery. And importantly, producers increased their productivity by 1,000 percent and their profitability by 376 percent.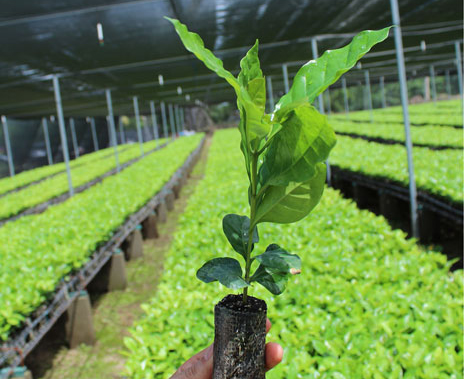 Further, per-bag averages also increased from 4 quintals per hectare to 35 quintals per hectare. In some cases — after four years of hard work by the producers and the Por Mas Café teams — some farmers achieved harvests of 45 quintals per hectare. (A quintal is 100 kilograms.)
"Coffee rust severely affected coffee plantations in Mexico due to the advanced age of coffee trees and the lack of access to knowledge, financing, inputs and information in most of Mexican coffee farming," says Osvaldo Ortega, CEO of ECC.
"Coffee farmers are the heart of our business. So, we implemented a holistic program to let them know they're not alone in this battle," Osvaldo continues. "We set out to break the vicious cycle of debt and minimal outcomes that most farmers are trapped in, by supporting their pursuit of a sustainable coffee production, where they can cover their costs of production and still have additional income to invest in their futures and the future of coffee."
Por Mas Café presented a use case for how a producer could renovate a farm and create his or her own success story; a use case that proved that even something as dramatic as a renovation didn't have to rely on donations but could be a viable business case, replicable without limit.
Through the development of Por Mas Café (which is now part of NKG BLOOM) ECC also gained tremendous nursery management expertise. Today, it runs the biggest coffee nurseries in the country, and its seedlings are renowned for their high quality. ECC was also able to take on the risk of testing new varieties, so only the best possibilities could be shared with producers, and it tested and embraced more environmentally sound seedling bags that compost themselves in time, instead of plastic that's eventually discarded.
Uganda BLOOM
In Vietnam, the average coffee farmer produces nearly 42 bags per hectare (assuming 60 kilograms per bag), while in Uganda, the average yield is just over 9 bags.
Ibero Uganda developed a program including many of the same offerings as ECC, as well as a mobile application that it paired with smartphones that it made available to producers within the farmer groups it worked with.
The application created a clear way for Ibero to keep track of coffee deliveries from each farmer, as well as the visits to farms and the assessments being made by the Farmer Services Units (FSUs).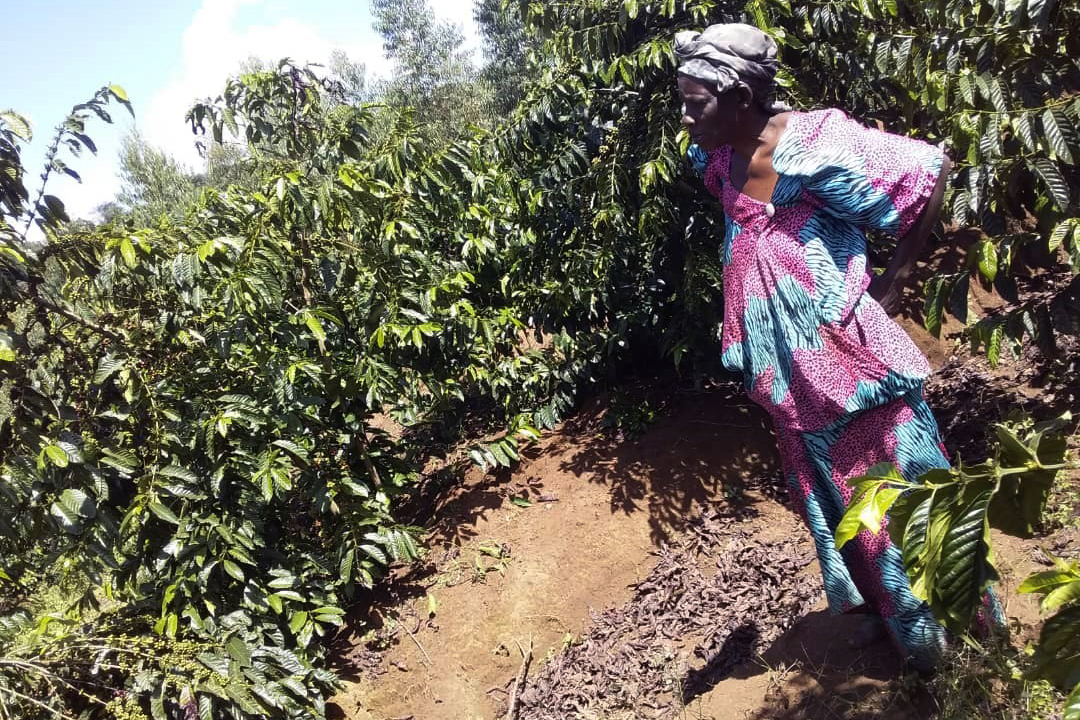 For farmers, the app also created a quick way to apply for fertilizers and mobile money advances, to view balances and available money, and to repay mobile money advances during coffee deliveries. With mobile money loans, farmers can also bridge cash needs; instead of feeling forced to sell unripe cherry off the trees when they're in need of cash, they can wait until cherries are ripe and they'll receive the best prices.
The program has been enormously successful, with farmers seeing dramatic improvements even after the first year. For example, Naggayi Florence, a mother of six who shoulders her household expenses alone, had trouble paying school fees, since they didn't coincide with her single harvest payments and day-to-day expenses relied on the full payment. To cope, she took out loans with village traders, based on low, fixed per-kilo prices for her coffee. Once she had access to the NKG BLOOM mobile money credit line, she could immediately access funds when she needed them, and she could sell her coffee at a fair price. "It has never failed me," she says.
"In Uganda, we learned that it's possible for us to finance even the smallest of smallholders directly through a combination of technology like mobile money, an IT solution specially designed to support operations in the field and microfinance methodologies that have been developed in the past by Grameen Bank and Procredit Bank," says Catalina Eikenberg, head of NKG's Sustainable Business Unit and a main force behind NKG BLOOM.
"We also learned that through the provision of services to farmers, especially financial services, it's possible for our export companies to significantly increase the volumes sourced from those farmers. In Uganda, we saw farmers go from selling 10 percent of their coffee to us to 70 percent, and this encouraged us to pursue NKG BLOOM in other geographies."
Initially, the Ibero program began by working with 80 farmer groups; when it reached the point of wanting to expand, it found there weren't many other groups in place, though there were still more farmers they weren't reaching. So, they developed what they called Village Coffee Organizations (VCOs), which act as organizing structures. The FSU can go to districts where farmers lack agricultural training and access to financing and hold Farmer Field Schools (FFS).
Through the VCOs, farmers receive guidance on how to improve the quality of their coffees, so they can receive better prices, and BLOOM is able, thanks to the groups, to more efficiently offer its services and ultimately reach more people.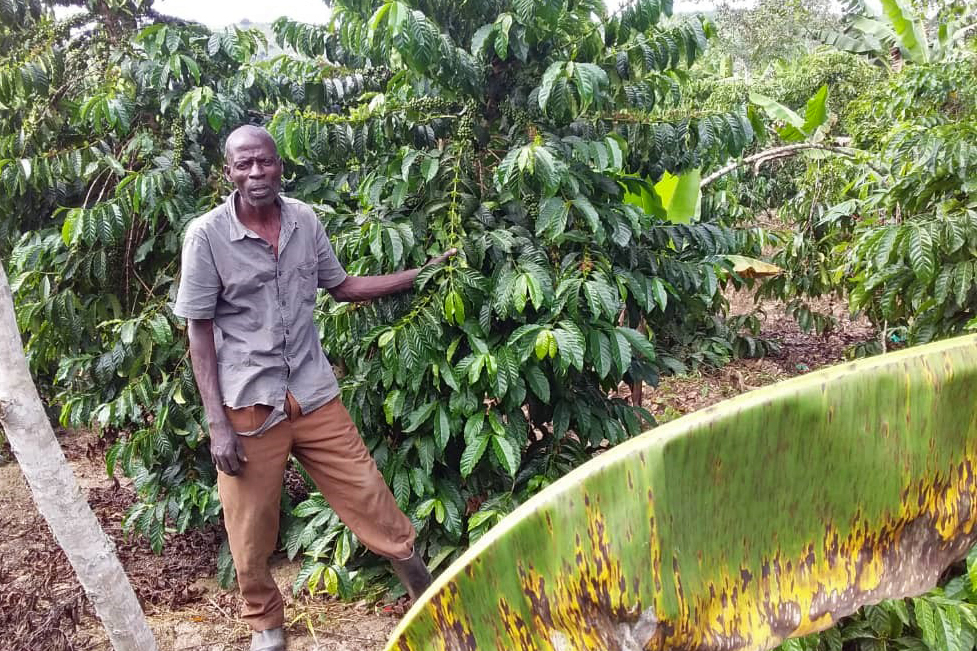 Farmer Luyinda Edward had an earlier loan and unable to purchase fertilizer until that loan was paid off. Through a VCO, he applied for and was advanced fertilizer, as well as a tarp to dry his coffee on.
His trees flowered far more, produced more, and by selling to Ibero Uganda instead of the local hulling station, he received a better price for his coffees, was able to pay off his previous loan and even purchased more land to expand his farm.
This year, the NKG BLOOM initiative fully launched in Honduras, Mexico, Kenya and Uganda. By 2030, our goal is to be in 10 countries and to meaningfully improve the lives of 300,000 coffee-farming families. As NKG BLOOM expands, and each of us keeps learning and improving, we're excited for all the new lessons and learning — and for all that the future holds.